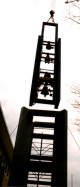 Santa Caterina da Siena (TS) TOWER-BELL
Engineering work to plan and to carry out of static plans for tower-bells and churches.

Planning of iron or wooden mounts to support the bell installations.

Testings and advices about the statics of tower-bells.

New systems to set the bells to reduce the thrusts on the building's walls.

Planning of new mounts to set the bells on new architectonical structures ( tower-bells, churches).

Writing of questions and plans to ask some backings in one region or in one country.

Advice about tower-bells with static problems because of bad restorations or of thrust problems in the bells movings .